Today's challenge comes from Writing My Own Fairy Tales. All we have to do is list our favorite and hated book to movie adaptations. I did a bit extra. Then I had a little help from my husband. He agrees wholeheartedly on my least favorite adaptation. He didn't even give a second option.
Most Favorite Adaptation:
Harry Potter and the Sorcerer's Stone by J.K. Rowling
I know this one depends on the person. I do know that this series helped me through my first year of college. I was in a depression the majority of that year. I see that now, years later.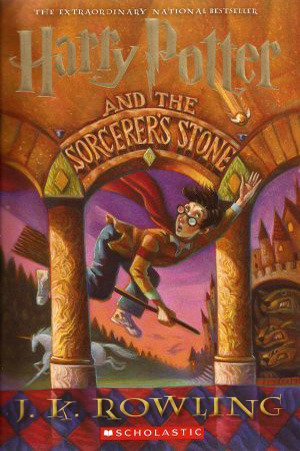 Least Favorite Adaptation:
It's been years since I've read this and just as long as since I saw it. I do remember finding it in the $5 & under movie bin at Walmart when I was barely in college. The movie was so hokey. It wasn't remotely close to the book's plot.
Honorable Mentions of the Good Sort:
Pride and Prejudice by Jane Austen
The Lord of the Rings by J.R.R. Tolkien
Gone Girl by Gillian Flynn
Atonement by Ian McEwan
Honorable Mentions of the Bad Sort:
Dreamcatcher by Stephen King
World War Z by Mel Brooks
The Iliad by Homer
The Great Gatsby by F. Scott Fitzgerald
Upcoming adaptations I'm concerned about:
Inferno by Dan Brown
The Gunslinger by Stephen King
Adaptations I wish would happen:
The Bronze Horseman by Paullina Simons
Artemis Fowl by Eoin Colfer
Husband's Mentions of the Good Sort:
Fight Club by Chuck Palahniuk
A Clockwork Orange by Anthony Burgess
No Country For Old Men by Cormac McCarthey